POSTED ON 10/13/2023 – Over 2,000 visitors from 46 U.S. states and seven countries joined us for DISCOVER 2023 – and the largest privately held manufacturing event in North America held excitement in store for every attendee. Our latest innovations demonstrated technologies to suit shops of all sizes and workflows of all types. Along with 29 Mazak machine tools to build success, we hosted a long list of speakers with insights and advice gleaned from industry expertise. The entire show – including the ever-popular family day – made Mazak the place to be from October 9-13, 2023.
This year's showcase theme was "Learn More. Do More. Make More with Mazak." Every aspect of DISCOVER 2023 was packed with competitive advantages for forward-thinking shops: Ways to maximize their future opportunities – and conquer new realms of production excellence.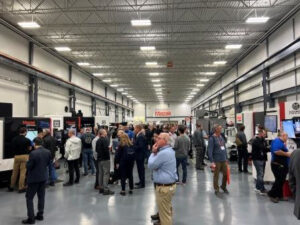 Live demonstrations of essential Mazak technology captivated the crowd in four Action Areas, each with exceptional examples of part production. In the Job Shop Solutions Action Area, our VC-Ez Series Vertical Machining Centers included the new MAZATROL SmoothEz5 CNC with 5-axis functionality – in a compact package at an unprecedentedly low price point. Additional VC-Ez machines and the highly efficient 2-axis QTE-100M SG also showed their capabilities.
In the High Production Technology Action Area, our Kentucky-built SYNCREX Swiss-style machines powered through small, precise parts on seven, eight and nine-axis configurations designed for high-speed productivity. Among these machines, attendees saw our newest SYNCREX innovation, the MAZATROL SmoothSt X with a full mechanical keyboard.
Our Multi-Tasking Technology Action Area put a spotlight on the precision and efficiency shops gain when they can load in raw material and remove finished parts at the end of a cycle. This area included machines from our HQR Series of Multi-Tasking Turning Centers, our Kentucky-built QT-Ez Series Horizontal Turning Machines with Y-axis functionality and various spindle options, two INTEGREX Series machines with second turning spindles, and the direct-drive QUICK TURN Series of CNC Turning Centers.