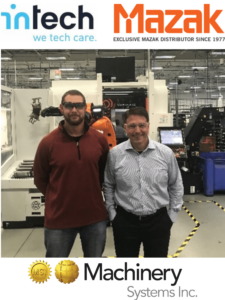 Above Jeff Klinkosh ( Manufacturing Engineer) and Mark Rothwell (General Manager)
Kenosha-based medical instrument manufacturer Intech (Formerly known as Bradshaw Medical), has completed installation of two new Mazak Variaxis i-500 5-axis vertical machining centers with user friendly Robojob Mill-Assist robotic system.
Machinery Systems, Inc. and Mazak are excited to begin this next chapter of advanced manufacturing at Intech combining Mazak's DONE IN ONE® 5-axis machining that reduces production lead times, while improving machining accuracy tended by the RoboJob auto load / unload system.
Robojob is a user-friendly, dependable and extremely compact software / hardware solution for auto loading and unloading your CNC machine tool. By implementing RoboJob, Intech will increase spindle utilization and ROI.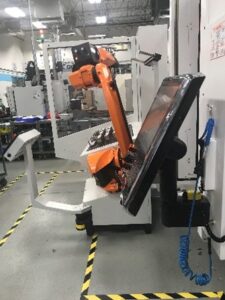 The critical handshake between the machine and robot is the fixture. Fixtures are an extension of the machine. Zeman Tool & Manufacturing engineered and built very high-quality hydraulic fixtures that accurately and securely provided reliable load and unloading of the part.
The powerful 18,000rpm HSK spindle easily and accurately cuts the part generating large amount of small chips. Chip evacuation is critical when automating the load and unload of the part. Chips are evacuated using a dual belt conveyor where larger chips accumulate on the top belt and smaller chips down to 50 microns are evacuated by the bottom scraper conveyor. Moreover, the machine has workpiece air blow, dual canister in-line filtration for the 1000psi through spindle coolant system, and a workpiece cleaning unit to aid in keeping the fixture as chip free as possible, reducing chip load for final air blow by the robot prior to loading a new part.
Normally uncontrolled variables are addressed through human intervention, however, automation and "lights out" production quality is not maintained by human intervention, but rather, by technology within the machine, program, and process to ensure an "in control" process is stable and predictable. Intech takes advantage of the Mazak's tool life monitoring capabilities and utilizes redundant tools when tool life expires. Furthermore, they implemented tool breakage and wear compensation with GIS automatic tool measuring system.
Everything in the manufacturing industry is changing – and disruption of the antiquated with innovative technology provides the solid foundation to overcome and succeed despite today's technical labor shortage. Automation, especially coupled with 5-axis capability, improves workflow, reduces your lead time, and ultimately boosts cash flow and bottom line.
Intech's modernization and production investments have been very positively accepted by employees as they are excited to run the latest technology while growing productivity.