When:
February 23, 2021
11:00 AM-12:00 PM EST
Where:

Streamed Live from Mazak's National Technical Center in Florence, KY, and the Midwest Technology Center in Schaumburg, IL
| | | |
| --- | --- | --- |
| New To Our All Axes LIVE Events? | | Attended Past All Axes LIVE Events? |
| Register today to attend the next All Axes LIVE event and access on-demand archives. | | Log in to access the next event and view past AAL events and on-demand demonstrations. |
| REGISTER NOW | | LOG IN |
WHAT TO EXPECT
Secure your shop's first-place position when you join us for the next episode of All Axes LIVE, Mazak's live virtual event series. In addition to first-look previews and demonstrations of our state-of-the-art machine tools and controls, you'll discover how technology such as PALLETECH and Mazak MegaStir Friction Stir Welding can help transform your operations. You'll see how MAZATROL SmoothAi CNC simplifies program management with powerful open communications tools capable of working with Autodesk's FUSION 360 and other CAM solutions. And you'll learn how to minimize downtime and increase productivity with the help of our Spindle Rebuild Department. Tune in February 23 and get ready to push the limits of your industry. Because success means never settling for second best.
EVENT AGENDA
| | |
| --- | --- |
| 11:00 AM EST | Welcome Address & Introduction |
| 11:05 AM EST | INTEGREX i-200H ST Demonstration |
| 11:20 AM EST | VARIAXIS i-800 NEO Demonstration |
| 11:35 AM EST | HCN-6800 NEO Demonstration |
| 11:45 AM EST | INTEGREX i-630V AG Demonstration |
| 12:00 PM EST | Closing |
TECHNOLOGY IN ACTION
INTEGREX i-200H ST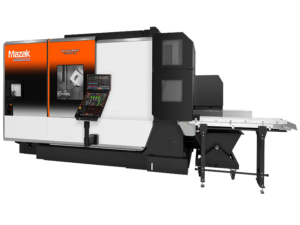 Newly redesigned for fully optimized Multi-Tasking, the INTEGREX i-200H ST Multi-Tasking center delivers on-demand DONE IN ONE® production for complex parts.
Main spindle with 3″ bore accommodates bar material up to 2.56″ in diameter.
5,000 rpm, 25 hp second turning spindle (S) for single-setup machining.
12-tool stand-up lower turret (T) with optional 10,000 rpm, 7.5 hp rotary tool capabilities.
VARIAXIS i-800 NEO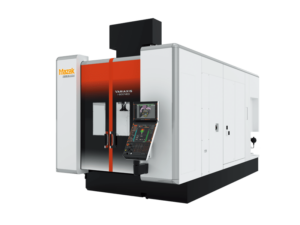 Featuring the next generation of 5-axis machining technology, the VARIAXIS i-800 NEO has an automation-ready design built for increased crane access and fully unattended operations – even over the longest cycle times.
10,000 rpm, 50 hp standard spindle with wide range of high-speed and high-torque model options available.
Tilting/rotary table and high-rigidity construction ensure consistent, reliable accuracy.
Built with an enclosure designed for simple integration with other machines, such as horizontal machining centers, using PALLETECH.
HCN-6800 NEO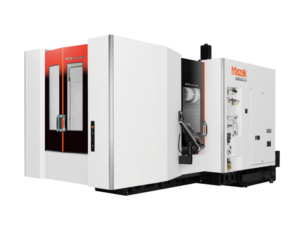 A even more capable and cost-effective version of one of our most popular horizontal machining centers, the HCN-6800 NEO has been completely overhauled to offer affordable, high-value machining capacity in a smaller footprint.
Expanded range of options includes new 8,000 rpm high-torque spindle, direct-drive table and more.
Redesigned 43-tool drum-type magazines (60-tool drum-type and 80, 120, and 160-tool chain-type magazine options available) speed up chip-to-chip time and allow for improved tool length and moment.
Improved ATC shutters, guide sizes, pallet changer mechanisms and more have been reoptimized for even greater speed and reliability.
INTEGREX i-630V AG
Combining full 5-axis milling, powerful turning and pallet-changing capabilities with the HYBRID Auto Gear (AG) package, the INTEGREX i-630V AG provides DONE IN ONE production for large and highly complex gears and parts.
Includes SMOOTH Gear Cutting software suite for simple, easy skiving, hobbing and milling programming.
SMOOTH Gear Check Plus enables full in-machine measuring capabilities.
Handles parts up to 41.34″ in diameter and 39.37″ in height with full range of high-speed and high-torque spindle specifications.
New To Our All Axes LIVE Events?

Attended Past All Axes LIVE Events?

Register today to attend the next All Axes LIVE event and access on-demand archives.
Log in to access the next event and view past AAL events and on-demand demonstrations.
LOG IN